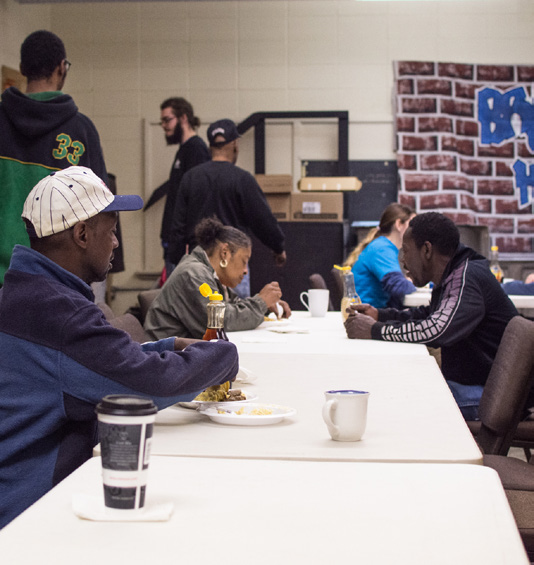 BRIDGE OF HOPE-HELPING WITH PERSONAL NEEDS
Bridge Program
Our "Bridge Program" links participants with a Community
Health Worker to co-create a care plan for permanent housing, mental and
physical health, substance treatment, and employment. The goal is to
stabilize the homeless and housing insecure with an expectation of
graduation.
A Place to Hang Out
Sometimes it is hard to find a quiet place. The hang out room is a large coffee-shop environment where you can eat a hot meal, get a cup of coffee, watch some TV, use the free WiFi, and enjoy some friendly conversation.
Hang Out Room is open Monday, Wednesday, Thursday and Saturday from 9:00 a.m. to 2:00 p.m.
Shoes and Clothing
Bridge of Hope's Clothing Boutique has clothes for people of all ages. Whether you are looking for something for a job interview or you need a pair of shoes, let us know what you are looking for, and she will help you find something.
Clothing Room is open Monday, Wednesday, Thursday and Saturday from 9:00 a.m. to 2:00 p.m.
Showers and Laundry Facilities
Sign up at the front desk to schedule a load of laundry or a shower. Towels and toiletries are available.
Health Professionals
Please feel free to talk with our staff about special needs you have, such as needing to see a nurse, a social worker, an educator, or a counselor. We have some professionals that come to our facility to assist, and we have a network of resources that might be able to meet your needs.
VOLUNTEER
We invite you to come and volunteer at Bridge of Hope! Your investment of time and talents multiply the work we are able to accomplish. We consider our volunteers a valuable part of our team.
Please CONTACT US and we will set up a time for you to come and visit, and get you enrolled in a short training to equip you with what you need to know to get started as a Bridge of Hope Volunteer.
Personal Assistance
Food Preparation
Clothing Distribution
Internships
Building Maintenance
Office/Administration Assistance
Publicity & Fundraising
Just Hang Out
Pray with Us
SERVING LUNCH
Monday, Tuesday, Wednesday, Thursday, 11:00 a.m.
INTERNSHIP OPPORTUNITIES
Work 20 hours per week at a job of their choosing
Arrange own housing, provide for own meals
One Year Commitment (unless other arrangements made)
Participate in the following

Midweek Activities – based on expertise
Staff Meetings
Informal Community Relationship Building
IMMEDIATE NEED: Finance / Administrative Intern — Standardize processes related to ministry finances, tracking of "members", cleaning up data / files, observing / recommending streamlined systems; someone capable of jump starting things – giving leadership a just-the-facts summary (20 hours per week)
IMMEDIATE NEED: Project Management Intern — Assist with volunteer coordination; oversee communication to ministry leaders; develop project lists and priorities of projects; someone willing to walk alongside us for a while to see how we operate and suggest projects that would aid the flow of the ministry priorities / volunteers; possibly facilitate the start of a remote tutoring project (20 hours per week)
Maintenance Intern — Assist with cleaning routines; general care / maintenance of building; develop processes that could be handed off to community volunteers
Grant Writer Intern — someone versed in urban issues and community development jargon to pitch existing ministries / needs to wider funding network
Healthcare Intern — social worker of sorts to help coordinate the needs of our people with existing health care providers / services; encourage and follow up on medical appointments; assist in healthy eating / incorporating fresh produce into church dinners, etc.